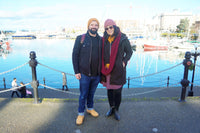 Mike and I recently had the chance to visit Victoria for our very first parents getaway with AMA Travel and Best Western. 
What a treat this was for us! The gorgeous, snowless, Victoria, is only a 90 min flight away from home. Our direct flight got us into the city with ease and comfort. I couldn't believe how accessible it was to get around the city. We clocked a lot of steps on the most beautiful scenic streets. 
Our hotel, the Best Western Plus was perfectly situated in the inner harbour. Everything from the spacious room, the staff and the view were perfect! A tasty breakfast was also included in our room rate, as well, they had the cutest wee self-serve coffee and tea bar in the lobby. We always travel with our tumblers, so this was a treat for us to fill up as we headed out on our chilly early morning adventures. 
We packed a lot into our two nights away! Friday, late afternoon, we ventured into the famous Butchart Gardens. We started with a delicious high tea and timed it perfectly with the sunset to catch the Christmas Lights. This did not disappoint. The gardens are SO lush and all decorated so beautifully for the holidays. Some displays were interactive, making it very fun for families! There was a skating rink, restaurants and coffee shops, and a fabulous gift shop! The perfect outing for anyone. 
We woke up early on Saturday and decided to walk most of downtown. Nothing was open just yet but it was a beautiful way to window shop. We ventured to a local studio, Alive Mind Body, where we enjoyed a restorative yoga class. It was such a peaceful start to our day! The studio was so vibrant, the staff were so friendly and the class was just what the doctor ordered after a very bustling season for Mike and I. We highly recommend this to anyone on holidays!
We took our time walking back to our hotel. I definitely thought we'd have more time on the Hop-On Hop-Off Bus BUT what I didn't know was that they stopped tours at 5:30pm and that you had to start at a certain point to get a different ticket printed. Our fabulous bus driver Gus, kindly let us on his bus late that afternoon but told us we weren't able to hop-off since we didn't have a specific printed ticket. So if you're looking at this option, which I do highly recommend, definitely read the fine print haha. Regardless, it was fantastic to just sit on the 90 minute tour (since it was quite drizzly with rain this day) and get a good idea of what we had to look forward to. Luckily our tickets were valid for 24 hours, so we were good to hop back on on Sunday!
Sunday, early morning, was probably my favourite part of our weekend away. We had a pedicab tour, which was a 75 minute ride on the back of a bike strolling through downtown and China Town. Our guide Allan was fantastic, personable and taught us so much. The one-on-one vibe of this tour really made it for me!
We even took a wee walking break into Fan Tan Alley, grabbed an amazing coffee from Hey Happy and slunk back into the pedicab. It was very chilly for a December morning, but Allan was equipped with blankets! He even dropped us right in front of our hotel which was such a treat! 100% recommend this! 
Shortly after our pedicab tour, we hopped back onto the Hop-On Bus. It turned out way better for us! We sat at the top, where the skies were clear and knew exactly where we wanted to hop-off. 
After hearing about the Craigdarroch Castle from the first hop-on ride, we knew we wanted to check it out. It was so fun to wander around this amazing piece of architecture nestled in the middle of a neighbourhood. The castle was decorated for the holidays making it extra charming! The craftsmanship and preservation was really impressive. 
Our first weekend away, sans Ruby was a success! This will also not be our last time in Victoria. We are rested, happy and so grateful to have had this opportunity to explore such a historic city! If you love architecture, history, ocean views, and great food, Victoria is a must visit. 
This post was sponsored by AMA Travel and Best Western. AMA Members save up to 15% on Best Western stays in Canada, the U.S., and worldwide. Your AMA Membership can save you – whether you need roadside assistance, to book a vacation, or at one of our Rewards partners. Check out amatravel.ca/bwbloggers to find out more and see the adventures other bloggers went on!