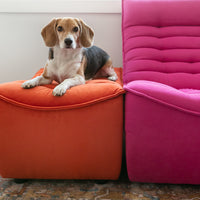 I can definitely tell you that I squealed during our Cottswood sofa install! WORTH THE WAIT! I still can't believe that we built the sofa of my dreams with local experts Cottswood!
Cottswood's white glove delivery service was magic. The installers took such care with each piece, double checking everything before placing and taking all the wrapping away with them, leaving us to enjoy our new rainbow of comfort!
Our challenge was always size and configuration in our 1952 bungalow. In-house Cottswood designer, Kristi Kingdon, truly created the most PERFECT fit for this living room. It honestly, fits like a glove! I'm so happy we went with this Italian made, Calia Italia modular unit. 
The swatch options for this particular sofa was incredible and definitely a huge bonus for a family like ours. We LOVE colour, we want to be surrounded by colour. Finding big ticket items like colourful sofas is rare – and that's why we adore the possibilities at Cottswood!
Everything down to the colours, the textures of each colour (which are all different!!) and the fit, we couldn't be more thrilled. We have been playing musical chairs since we got it, testing out many movie/games nights, and the comfort level and style is just so perfect for our family. 
Huge thanks to the Cottswood team, in particular, Alex, Kristi and Matt for partnering with us, for this truly unique piece of furniture and shopping experience.
We really look forward to having fun and playing around with repositioning our new sofa on holidays and family events! Oh the possibilities!
If you're on the hunt for amazing quality furniture and service, please check out Cottswood Interiors, located right here in Edmonton: 10940 Mayfield Road.
This blog post was written in partnership with Cottswood. All views and opinions are my own.
Photos by T.Bolinski Creative