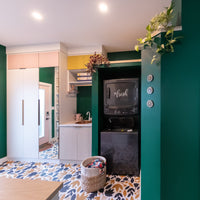 You know you've reached full blown adulthood when a new appliance feels like the best thing EVER! 
When we initially designed our new mudroom, I knew I wanted to include a laundry in the space. Basically, I've been avoiding going into our basement ever again, and it worked! Mike had specifically framed in the space for a stacking washer/dryer unit. We had previously scoped one out at The Brick. We chose the Unitized Spacemaker Washer and Electric Dryer Combination. It fits like a glove!! Other features we wanted: we knew we wanted a top loader as well, we initially wanted a white unit BUT I'm so happy we ended up with the dark grey!! It looks so great and doesn't stand out like a white unit might. Maybe one day they'll make pink washer/dryers ha. 
I've also never done so much laundry in my life! I'll be the first to admit, Mike did all the laundry before, up and down the old 1950s basement staircase and I did all the Marie Kondo folding! It was a great balance and teamwork. I'm doing most of the laundry now, since it's just beside my office, I can easily swap a load. To my surprise one day, coming home from an event, late at night, I found the laundry basket filled with Kondo-style folds by Mike!! What a dream!!
Having an accessible laundry room has made a world of difference. It's become a very happy and delightful chore in our home, one we never complain about. 
Since I can't let anything go without a little JMa touch, I added a "so fresh" decal directly onto our unit. Something that signifies laundry but also just a nice mantra to have while entering and exiting our home being that it's a multi-purpose shared space.
I have a few more touches to add to our dream mudroom and this laundry unit makes it one step closer to being fully complete!
This blog post was written in partnership with The Brick. All views and opinions are my own.