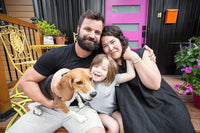 We had the amazing opportunity to shoot with Darren LeBeuf from
House Stories Canada
the other month. And let me tell you, I have never been so emotional over a photo series. 
Just a few months ago, we wrapped up a large home renovation that took ten months. It was a huge undertaking for us and I'm so proud of the outcome. Seeing these photos, the details, the snippets of our lives is so special. 
Darren has the most unique style. He captures textures and layers and most importantly, all my treasures. If you know me, you know I'm a maximalist. I love things and they all have special meanings for me. I have a lot of memories in the treasures in our home and Darren saw those and shot them so beautifully. 
Ruby's room might be my favourite. Kids rooms are so cluttered with their own treasures, artwork and mess and I just adore how we now have this moment in time of our darling five year old. 
Our bedroom is my oasis. I love the colours we chose. I only wish I made the bed properly before this shoot hahaha.
It's no secret, our new office/creative space is our most loved room. We spend the majority of our time in here. 
Lastly our loft. I never go up here so it was nice to see Darren's point of view from Ruby's play space. Such beautiful captures of her space. The best surprise was Darren surprising Ruby with a
custom illustration
of her purple tiger (Leah). SO amazing, so talented. This is such a keepsake. 
I'm so happy and grateful for this shoot. It captures us and our home and our memories so beautifully. 
Darren
has so kindly offered a massive deal for anyone interested. Until October 15, you can get 60% off a House Stories shoot (regular $650 down to $390). Use the code HAPPYHOME when booking!!
Thank you so much for your time and talent Darren!!