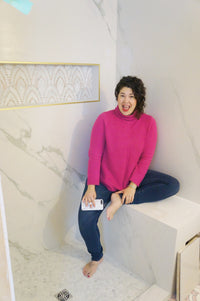 Hey friends!! If you're in Edmonton and looking to renovate or upgrade or build, The Edmonton Renovation Show is happening this weekend (January 25 to 27) at the Expo Centre. They have 225 exhibitors and Bryan Baeumler is back guest speaking!
We attended last year and it was great to stroll through the aisles getting inspired by all the possibilities before we even knew we were ready to renovate our home. Make sure to take lots of notes while you're there!!
But before you pick up a hammer, I have so many things to share! If you've been following along my instagram, you know that we've been renovating since August 2018.
Here is a quick breakdown:
· We quickly outgrew our 1000 square foot 1952 three bedroom bungalow.
· So we've added a 600 square foot addition. This includes a marvelous mudroom where we plan to add a stacked washer and dryer. A creative space with 20' ceilings, glorious windows streaming natural light and a fun loft for Mike & Ruby.
· Gutted the three bedrooms and main floor bath. Turning the home into a two bedrooms and added an ensuite onto our master bedroom.
It's been six months of dust, people in our space, boxes and boxes and piles of stuff. We can see the light though. I foresee another month or two until we are fully complete and I can't wait. I'm obviously most excited about our master ensuite. Pink concrete tiles, full slab steam shower walls! SO IN LOVE!
We ended up upgrading our furnace to extend the main floor bathroom. Mike had to remove the chimney that was working with the old furnace, and that made a HUGE difference in space. Ruby now has a gorgeous bathroom that she can grow into. We are still waiting for one wall to be tiled, but I promise, it'll be worth the wait! One thing for sure, I'm excited for, is doors. As much as I love these old sheets, they don't make for very secure bathroom doors, ahha.
This experience so far has made me feel really proud, stressed and excited. Seeing Ruby help out, chat with the trades and see loads of her dad is so special. The kid has potential for sure as a future painter or carpenter!! She's been a real trooper through this entire build. I guess that means we can do the kitchen next!! ;)
I have so much to share with you on our experience, but I'll break this down into parts. I feel like I'm in a good spot to share now that we are so close to being done. Three months ago, if I wrote this post, I'd likely tell you never to live in your renovation hahahaha. But then we wouldn't have bonded as much as we have, especially Mike and Rubes.
I look forward to sharing with you next, the entire home as well as things I should have done.
In the meantime:
Inspiration: The Edmonton Renovation Show
Tile: River City Tile Company
Contractor: Michor Contracting