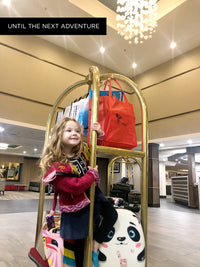 We recently had the opportunity to zoom down to Calgary with AMA Travel! Calgary is one of our favourite Alberta cities with so much to offer families. 
Best Western Port O'Call was the highlight of the trip for my 4 year old daughter Ruby. Our room had an interior door that connected right into their waterpark and our very own, private cabana! No awkward, dripping hotel walks back to your room with this private entrance. It was absolutely fantastic! 
With a jam packed weekend (and a four year old), we tend to be back in our hotel rooms early. We ALWAYS pack comfy lounging clothes since having a babe. This Cloud Nine Pajamas robe is a dream and I highly recommend it! 
AMA members save up to 15% off Best Western room rates in Canada and the US!
AMA let us know about a really great feature for Telus Spark, they have a calendar on their website which depicts how many students will be visiting so you can choose to visit on slower/less busy days. Luckily the Thursday we went was super quiet and it almost felt like we had the whole space to ourselves! This was our first time to Spark and we were super impressed. Their space is beautiful, clean, and well constructed for all ages. Mike and I had just as much fun as Ruby! 
We ended our trip at the Calgary Zoo for the Panda Breakfast. This was a highlight for me since pandas are my favourite animal and this trip did not disappoint. We visited the pandas once before and it was SO packed, we ended up only viewing them for just a couple minutes. This breakfast was a chance to have a more intimate viewing and learn more about the four cutie bears living there. Some key items I took away from this session was that the Calgary Zoo partners with a Chinese commercial airline to import the pandas bamboo. Apparently pandas are super picky and only eat certain bamboo species, all indigenous to China. Using this commercial airline, they don't increase their carbon footprint and the pandas are kept well fed. So wonderful for our picky monochromatic friends!
Also, if you're an AMA member, you get 20% off admission prices!! I love the Calgary Zoo so much, there is always so much to see and the walk around the zoo is always so beautiful!
Since our breakfast was at 8:15am, we got to see the most gorgeous sunrise! 100% worth it!!
Some other AMA partners we visited were ESSO gas and Castle Toys. AMA members can get reloadable Esso cards at AMA Centres that earn them 2% back in AMA reward dollars every time you purchase gas, car washes, snacks, etc. (An AMA Reward dollar is equal to $1 and can be spent on travel, movie tickets, memberships etc.)
Ruby (and us) had a wonderful time at Castle Toys, a local toy store in Calgary that offers free shipping over $50. AMA members receive 10% off all regular priced purchases. Their selection and pricing were fabulous. 
We squeezed a lot into this wee family adventure and are so grateful for the family escape to Calgary! Can't wait for the next adventure!!
This post was sponsored by AMA Travel and Best Western. AMA Members save up to 15% on Best Western stays in Canada, the U.S., and worldwide. Your AMA Membership can save you  – whether you need roadside assistance, to book a vacation or at one of our Rewards partners. Check out amatravel.ca/bwbloggers to find out more and see the adventures other bloggers went on!