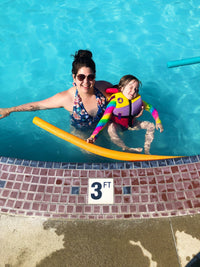 Our family recently visited Kelowna, BC for the first time together. It's been 25+ years since I've been there and I can't believe that!! What a stunning place, right in our own country. 
This trip was truly a treat for us! Just the three of us, tucked away in beautiful west Kelowna at The Cove Lakeside Resort was so lovely. A stunning charcuterie and super tasty snack basket treated us upon arrival. 
The Cove Lakeside even has a movie theatre, perfect for the cloudy, rainy, lazy days. We watched Dumbo, made popcorn in our room and Ruby was so smitten!!
We spent most of our time in the pools. This was Ruby's first time on a waterslide and she even gained the courage to go by herself about a thousand times!! We were so proud of her. One day we even got a cabana by the pool!! Unfortunately we were quickly rained out, but that didn't stop us from still enjoying our time there. 
The rooms were plenty spacious and included a full kitchen and washer/dryer. 
Such a beautiful place! Rubes loved it so much, she won't take her little wristband off! She keeps telling people that she's going back soon! haha. We ALL can't wait to visit again!!
The lakeview is also 100% worth it! SO stunning!! Thank you for the beautiful experience and much needed holiday getaway!
This blog post was written in partnership with The Cove Lakeside Resort. We were gifted one night complimentary stay, welcome amenity, with cabana and movie night rental. All views and opinions are my own based on our stay.