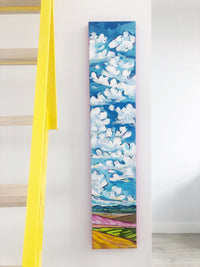 I'm going to gush a lot in this post. I've been a HUGE fan of Amy Dixon since seeing her work at Make It Edmonton, years ago.
Amy is an abstract and landscape artist, originally from Nova Scotia. Her traveling has inspired her work and it shows.
When we first met about a custom piece, I was over the moon. I love everything she does, so it would be hard to be nervous. I would say, the most difficult part of this process what deciding on where to put our custom piece. I knew for sure it had to be in the office, lots of light and for me to see it daily.
Amy has been involved from the start. She came over when our office was just framed and we visualized together where to put this piece. We decided on the ladder wall. A unique space, where it would get direct light and essentially a wall to itself. Amy picked a 5' x 1' canvas, the perfect fit to accentuate it's linearity.
In terms of what she was going to paint, I only suggested a big sky and pink, because clearly I have a love of all things pink. She nailed the design, the colours, the shape, EVERYTHING!
We are all SO in love with this piece, the ease of working together and how it gives this space more colourful life.
Thank you Amy, for following along our renovation journey and giving us this amazing piece that we will always treasure!
If you're looking for the perfect piece for your mantle, or have a unique space to fill, I highly recommend working with Amy. She was professional and easy going. Her work speaks for itself but her attitude and personality made this process an absolute pleasure. To see more on her commissioned pieces, click here! And be sure to follow her on Instagram, she posts her work in progress, shares other commissioned pieces, and will let you know when there are limited edition prints for sale!