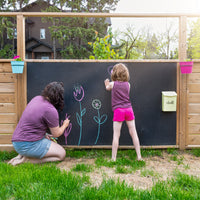 One of the most frequently asked questions we get is how we built our outdoor chalkboard.
When Ruby was just over one, we built one for her in our backyard to get us outside more. I looked up a recipe on pinterest for outdoor chalkpaint. It was a mixture of exterior paint and grout. I hated it! I also perhaps didn't mix it well enough, so it was lumpy and just not the greatest.
We ended up moving the chalkboard a year later to our new side yard and this is what I'd recommend to do.
1. Use a high quality piece of plywood and cut it to size.
2. Prime the board with exterior primer. Make sure to paint every surface, edge and backside. This is the most important as it will make it weather proof.
3. Paint your board with exterior black paint. Again, paint all the edges and backside. Use two coats.
4. Install on your fence and paint the screw holes with the same exterior paint to ensure no wood is revealed.
5. Install a cute mailbox to house your chalk! Mailboxes are great, and will keep your chalk safe from the elements.
I would also suggest to install your chalkboard in the shadier part of your yard. Direct sunlight will have more wear and tear on your board. To wash the chalk off your board, Ruby prefers to wash it with a rag and bucket of water, but we tend to hose it off or wait for the rain to wash it.
There will be some upkeep with anything outside, of course! I would suggest repainting, just with exterior black paint when needed. With the placement of ours, we repaint every three to four years.
Our chalkboard gets a lot of use all seasons long. We love having this creative spot in our yard for photo backdrops, games and just to doodle!
Happy chalking pals!
Mailbox from Architectural Mailboxes.