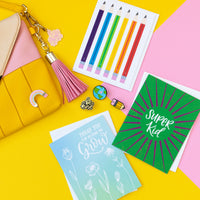 Back to school isn't just a busy time for kids. We're also emerging out of our summer-fog and getting ready to show you everything we've been working on! This month we have a few exciting events for you to check out.

Royal Bison Online Fall Sale - September 10-12, 2021
TheRoyal Bison Art and Craft Fair shifted to the online world in Spring of 2020 and it will once again be held online this fall. We are so honoured to be included again this year! We have been involved with the Royal Bison since 2007 and every year gets more and more exciting. The virtual doors open at 5pm MST on Friday September 10.
There is a massive array of vendors this year and we couldn't be more thrilled to be included among them. Whether you're looking for some fresh home decor, a new grooming product or that special coffee mug, the Royal Bison has it all.
We can't wait to see you online and show you everything we've created! Some new sticker packs and Halloween garlands can be expected!!

The Creativity Room at IKEA  - September 16, 2021 
As part of the IKEA festival, I am pleased to announce I will be hosting two creative workshops. Spend an hour with me while I guide you through the process of painting a beautiful wall hanging or decorative rug using theIKEA SORTSO Rug and  MALA paint collection. 
There are two time slots available for September 16, however, both are full at this time. But you can add your name to thewaitlist. The workshops are free and will be held in the IKEA restaurant. Masks will be required to attend and you must be an IKEA Family Member.