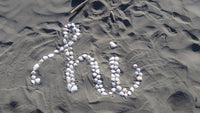 Since starting my wee company full time, vacationing has been tricky, as I'm sure any business owner would admit. Lucky I can typically work from my laptop for most things (minus shipping orders—sorry shoppers!). I've felt pretty blessed on a recent trip to my second home (where my husband is from) New Zealand. 
My SIL asked me if I felt like I was on vacation and for the first time in a long time, I immediately said YES! We have had SUCH an amazing time. I'm not sure if I'm working less due to [chasing] Ruby or because my brand new iPhone crapped out me or because I actually needed a rest. Regardless, this trip has been INCREDIBLE! We celebrated two weddings and have spent so much time with our family. Ruby has been getting so many cuddles. And I've been getting tonnes of vitamin D at the beach thanks to the HOT weather happening in Wellington. 
No matter where in the world I am, there is always a good chance to letter though—thanks to the beach for all their seashells and driftwood, and of course, my little apprentice.
Thanks for all your patience while the shop was closed! We had a good, warm, rest and are ready to get back to work!!