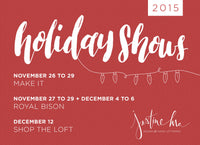 You guys!! We were accepted back into the Royal Bison for two weekends in a row this Nov/Dec and we couldn't be more excited! We love this market and we know you all do too! November 27 to 29 and December 4 to 6! Check out all the vendors here, I'm particularly excited for new vendors LOVIE (because I have a love of swaddles even though Ruby broke out of them ALL the time, PLUS tie dye!!! dream) and Tomnuk Design.
AND from November 26 to 29, you can find us as a first time "makie" at Make It Edmonton! I've been an avid shopper at Make It, and I'm pretty tickled to now be a vendor there!
Finally, I'm happy to announce that we'll be at Shop the Loft, for all you last minute shoppers, December 12, at the Project Loft! We adore this space and are tickled to be doing a one day pop-up with some great YEG makers!